The more your business grows, the more inventory you need to store. But you might not have the capability to store everything on-site. Enter warehouses. Warehouse benefits range from financial to organizational, let's explain below.
What is a warehouse? It's a storage building that holds raw materials or products until they're ready to ship. They bridge the gap between manufacturing and distribution and provide a safe storage spot for your inventory.
Rather than owning and operating their own warehouses, many businesses turn to third-party warehouses to handle their storage needs. Not only can these third-party solutions (3pl) help save money, but they can also help you save time and energy while running your business. Keep reading to learn our top 5 benefits for adding a warehouse to your supply chain.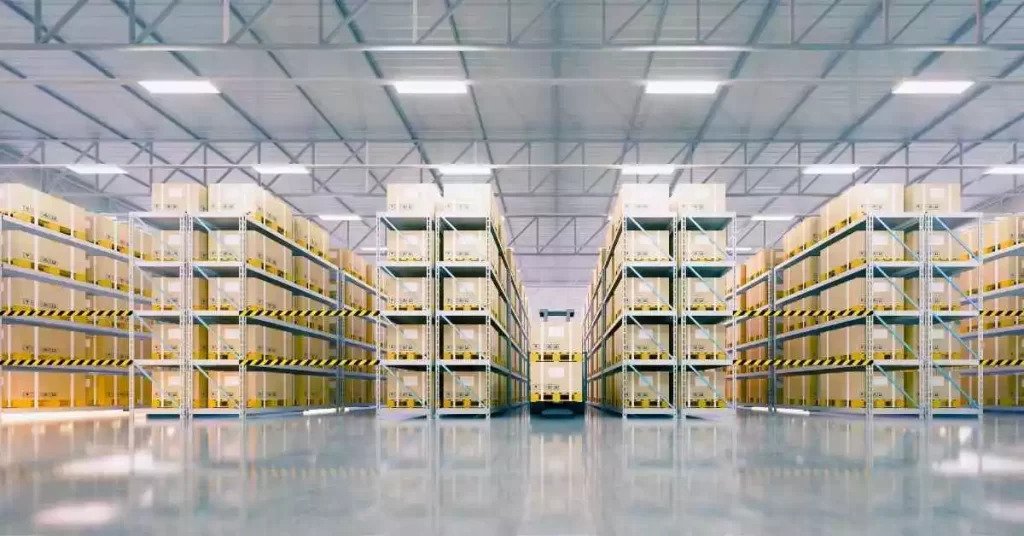 Top 5 Warehouse Benefits for Businesses
Save storage space – Obvious warehouse benefits
One of the most obvious warehouse benefits is the added storage space. First and foremost, instead of crates or palettes taking up space in your facilities, using a warehouse allows you to free up on-site space.
If your storage space is limited, you can store more items than you otherwise could on-site. That's especially handy if you ship or distribute items from overseas. You can order more items in bulk and keep them on hand domestically, minimizing your dealings with expensive port container ships and giving you faster domestic distribution.
Improve security and safety
Safety is a top priority – especially if you need to store rare or valuable items. For example, many third-party warehouses staff security personnel or security systems to watch out for your products and keep them safe
Additionally, if you store potentially hazardous items, and are in need of chemical transportation, you don't have to worry about putting your employees at risk. A warehouse will staff its own employees trained to handle hazardous materials properly, minimizing the risk for your own staff.
Better Inventory organization
It can be tough to stay organized when you store and ship items in-house. You might not always keep an accurate inventory or know where something is stored, causing delays in your supply chain.
On the other hand, most modern facilities come equipped with warehouse inventory management software. The software lets warehouse operators know every inch of their warehouse storage shelves – and precisely where everything is located at all times.
This takes care of inventory organization for you, so you can focus on keeping other aspects of your business organized.
Faster shipping and distribution
The professional organization at a warehouse isn't just good for efficient inventory management. It can also contribute to a systematic inventory management system resulting in faster shipping and distribution. Less time spent tracking down items means they can be packed and shipped out faster.
Additionally, many warehouse providers also offer dedicated shipping and transportation services. You don't have to worry about providing your own fulfillment and shipping. Good third-party logistics companies can take care of everything for you, killing two birds with one stone.
Save on costs
Beyond saving time on shipping and distribution, the economic benefits of a warehouse can't be understated.
For instance, you're not responsible for the overhead operating costs with a third-party warehouse. Furthermore, you don't have to hire warehouse employees, you don't have to upkeep the facility, and you don't have to pay the electrical bills. That's especially handy if you need temperature-controlled storage.
Third-party warehouses can also be scaled to your business needs. You rent only as much storage space as you need, then add on more as your business expands.
How to select a warehouse for your business
So now that you understand the benefits of third-party warehousing, how do you find warehouses that suit your needs?
First, consider what type of materials or products you need to store. Do you need a temperature-controlled warehouse with heating or refrigeration? Temperature-sensitive items might freeze if stored in a cold climate or melt in the heat without proper warehouse climate control.
Secondly, how long do you need to store items at a warehouse? Do you only need to store items for a few months, or do you need a more long-term storage solution? Ask your potential warehouse provider about their long or short-term storage capabilities.
Another major factor? The operating area you need to serve. Look for a warehouse with a centralized location in the heart of your business zone. Warehouses that sit near major highways and interstates can help you get your products on the road faster.
Speaking of shipping, a third-party warehouse that offers logistics services can help you save on your distribution. Like warehousing, outsourcing your distribution services can help you save time and energy over distributing everything yourself. Plus, you can save money
N&D Transportation Provides Warehouse Benefits
If you need a dedicated warehouse in the New England area, look no further. N&D Transportation Company Inc. is here for you. Our 12-acre North Smithfield facility houses one of the best distribution warehouses in Rhode Island.
For instance, when your freight arrives at our docks, we immediately check it against the packing slip and notify you of any discrepancies. Meanwhile, you'll receive a signed copy of the packing list for your records. Shortly thereafter, your items will be safe and secure in our racked and heated storage area for as long as you need – for both long and short-term periods.
Finally, if you need help with distribution, we offer direct fulfillment throughout the New England area and nationwide through our partner carriers. Our warehouse is centrally located near major roads and interstates, so your products can get on the road when they need to ship.
Contact us today to learn more about our warehousing process and how it can help your business.