If you're shipping temperature-sensitive freight, the last thing you need to worry about is whether or not it will survive the winter. This is where heated trailers are an amazing tool. Heated trailers can help preserve the quality of your freight, keep your goods from freezing, and offer extra reassurance in the coldest months of the year. But do your products need temperature controlled transportation in the first place? Let's discuss
Here's what you need to know about temperature-controlled transportation, along with how to determine if it's right for your business.
What is temperature controlled transportation?
Temperature-controlled transportation involves the safe transport of items that can be damaged by extreme temperatures. This includes both refrigerated shipping and heated transport. 
Temperature controlled trucking preserves the shelf life of products that cannot survive in the current outdoor climate. It is also a safety measure for both your products and the people who transport them. For example, certain chemicals can become volatile when they freeze. But if you need to transport chemicals to New York during the winter, you'll need extra precautions to ensure that they stay at a safe temperature. 
What is a heated trailer?
Unlike ordinary dry trailers, heated trailers employ climate control methods that maintain a consistent temperature inside. Maintaining the appropriate temperature includes many different shipping techniques. 
Perhaps the trailer contains insulation, employs an air-flow system, or deploys an enclosed trailer heater kit. Some temperature control trailers take things a step further. Thermo King heaters extract heat from the truck's engine, giving it an edge on energy efficiency. It also uses an airflow system to circulate warm air throughout the trailer. It's one of many excellent temperature controlled trailers designed to maintain an optimal temperature range for cold-sensitive products.
If you're transporting products that need to be kept at a certain temperature, it's important to express this to your logistics provider. Some trailers are only capable of keeping products a few degrees warmer than the outdoor environment. Others work only to maintain an "optimal" temperature range, such as between 60-80 degrees Farenheight. 
If your products need to be kept at a specific temperature, tell your logistics provider beforehand. They will help match your freight with a heated trailer designed to keep your products safe, along with the people transporting them. 
Are heated trailers more expensive than regular trailers?
Yes. Choosing to ship with a heated trailer involves a slightly higher price tag than ordinary dry shipping. This is due to the extra expense associated with maintaining the trailers, as well as the extra energy to power them. 
However, the costs often make up for themselves by preserving freight that might be damaged otherwise.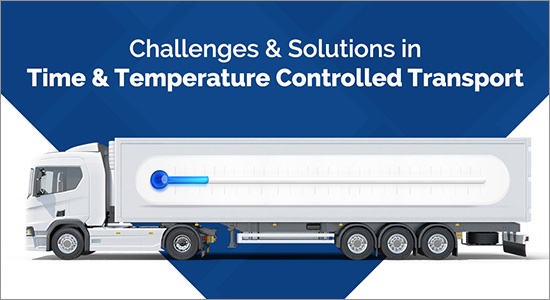 Do I need a heated trailer?
That depends. The vast majority of items shipped domestically don't need temperature-controlled transportation. Extreme cold won't damage them, and they aren't vulnerable to freezing. However, anything that could be damaged by freezing can benefit from a heated trailer. Some common candidates for temperature-controlled shipping include:
Beverages, both alcoholic and non-alcoholic
Perishable food products
Chemicals, paints, and adhesives
Perishable pharmaceuticals or medical supplies
Perishable cosmetics or skincare items
Flowers and plants
Electronics
Building materials
On the other hand, if you're transporting nonperishable goods that can survive the cold, then the extra expense of a heated trailer might not be worth it. Items that don't usually need temperature-controlled transportation include:
Non-perishable food products
Furniture or household objects
Clothing and Jewelry
Non-perishable cosmetics and skincare products
Non-perishable healthcare items and medical supplies
Agricultural materials and equipment
Books, magazines, or paper products
It all depends on what you need to transport and where. The climate, weather, and geographical location of your destination also play a part. If you're transporting temperature-controlled freight in the summer, you might not need a heated trailer. The weather will keep your items warm for you. 
Don't forget the warehouse
Keeping your products safe during transport is only half the battle. Good temperature-controlled transportation also involves temperature-controlled storage. If you're planning on storing your products long-term, you'll need to choose a warehouse that can meet your needs. 
Make sure that your warehouse has the means to keep your products at the appropriate temperature all season long. The last thing you want is for your product to spoil while on the shelf. Some warehouses might offer full climate control services, while others might simply provide only heating or cooling, depending on the climate. 
Who's the best temperature controlled transportation company in New England? 
If you're looking for temperature controlled shipping services in the New England area, N&D Transportation Company is here for you. 
We have several heated trailers in our fleet and can fulfill orders throughout the New England area directly, or nationwide through our partner carriers. We also have a heated warehouse at our Smithfield facility, perfect for keeping your freight safe from the harsh Rhode Island winter.
Contact our office today if you have any questions. We'd love to fulfill your temperature-controlled transportation and storage needs.