N&D's 12-acre North Smithfield distribution facility houses one of the best warehouses in Rhode Island. Our state-of-the-art distribution warehouse provides well-organized heated and racked storage for your freight, keeping it safe and secure for every step of the shipping process.
Our Process:
N&D takes great pride in our precision and organization. We track all our inventory through a superior digital system. From the moment your product arrives on our docks, we know exactly where it is, and we'll get it where you need it on time. Here's how we do it:
Arrival. When we receive your products on the N&D docks, we immediately take stock and check them against the packing list. If there are any discrepancies or damage, you'll be immediately notified.
Storage. Once we've verified that your products are safe and accounted for, we place them into storage in our climate-controlled warehouse. You'll receive a signed copy of the packing list for your records. Rest assured warehouse safety is always on the front of our minds
Retrieval. When it's time to ship your products, we retrieve them from storage and ready them for transport. We stretch-wrap and label every palette so they arrive with the look of professionalism you desire.
Shipping. Your products are loaded onto one of our trucks and shipped to their destination, ready to line retail shelves across the country!
We offer both short-term and long-term storage for your freight. Whether you need storage for a day or a full year, we'll keep your items safe no matter how long they're with us. We'd love to talk about fulfilling your logistics & warehousing needs today. Contact Us now to get started!
Warehousing Services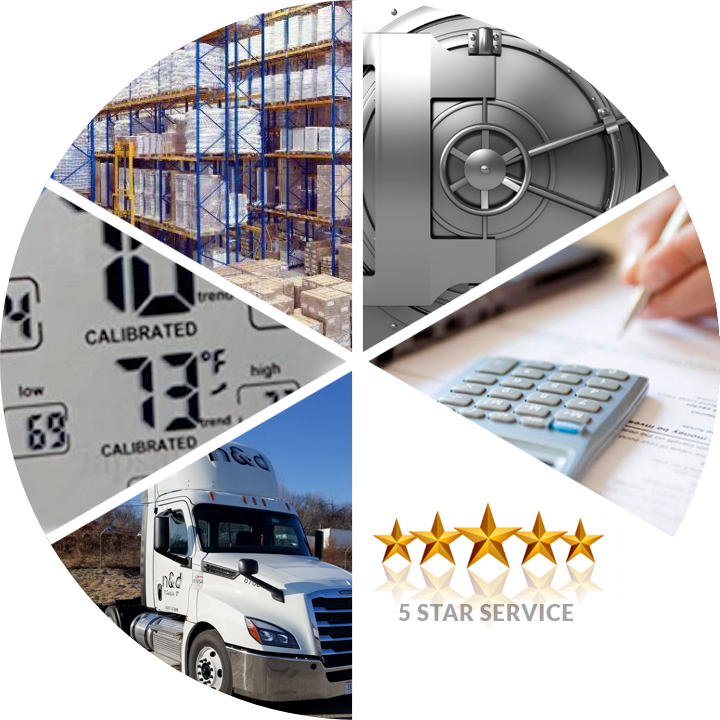 Organization
Racked and coded for easy retrieval. Instantaneous retrieval for your items, when you need it
Secure Storage
Keep your freight safe and secure
Heated
Safe and comfortable temperature
Cost Effective
Our rates are the most competitive in the industry
Transportation
We can pick up or you can drop off
Support
Our staff is always here to help
Contact one of our warehousing specialists today!