Trucking Services
N&D Transportation Inc. is a full-service logistics broker and freight carrier. Whatever your business needs to ship, wherever you need it, we'll get it there. Safe and sound.
We offer a wide variety of freight & logistics services, from local LTL shipping to nationwide TL transport and even international freight services. N&D's competitive rates and devotion to customer service make shipping with us stress-free.
Less Than Truckload (LTL) Shipping
LTL shipping, or less than truckload shipping, refers to any freight too big for a package carrier, but too small for a full truckload. Your products will share truck space with freight from other businesses, and you'll only pay for the space your items take up. This makes LTL an economic solution for businesses who only ship small skids or crated items.
Full Truckload (TL) Shipping
TL, or truckload shipping, is ideal for businesses with larger freight needs. Your freight will be the only thing aboard the truck, and your products will move from their origin to their destination without being transferred. For businesses who need to ship in mass quantities, TL shipping with N&D is ideal for distributing your freight as quickly as possible.
Our Services Include:
Common contract and brokerage authority throughout New England and the USA.
Dedicated fleet services and direct store delivery throughout the USA and Canada, both directly and with our partner carriers.
Heated and temperature-controlled services for sensitive freight and air ride trailer services for the smoothest ride possible.
Over 100 owned equipment units in our fleet, including 28', 48' and 53′ dry vans with liftgate carriers for easy loading. We also have storage and logistic post trailers for secure travel.
Brokerage for international imports & exports, plus air and ocean freight for overseas transport.
Consolidation and freight distribution services and trailer drop services at your location.
Let our team of experts work with you to find the most cost-effective solution for your freight & logistic needs. Contact Us today to get started.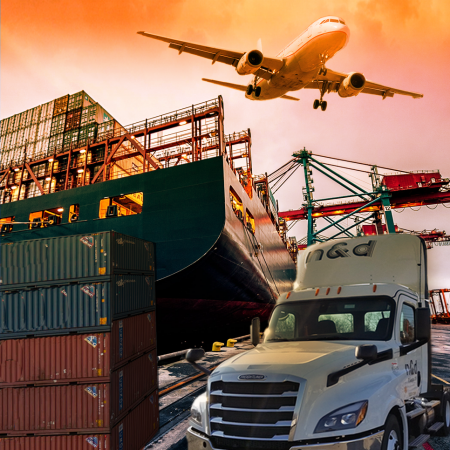 Contact one of our transportation specialists today!