Rhode Island's Premiere Transportation and Warehouse Company
Who We Are
N&D Transportation Company, Inc. is your Northeast leader in logistics & warehousing. We've served the New England community with competitive TL and LTL shipping rates for over 50 years. Our impeccable customer service always keeps our clients coming back for more.
Whether you need logistic & transport services, warehousing fulfillment, or anything in-between, we are committed to meeting all of your freight & warehousing needs with professionalism and dependability.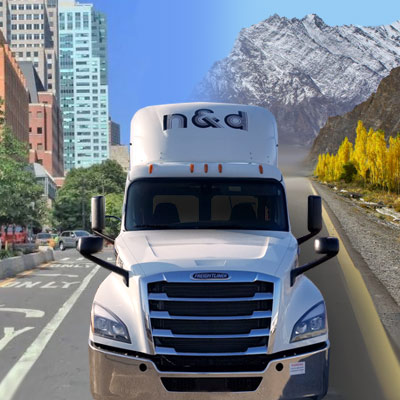 Why Us?
N&D prides itself on treating our clients with the utmost respect and professionalism. Our team of RI transportation experts knows the industry inside and out, and we'll go the extra mile to fill your logistic & transport needs.
We tailor our services to suit our clients, not the other way around. We'll work with you personally to find the most cost-effective solution for your freight needs. No matter what your budget is, N&D guarantees that we'll be the last logistics company you will ever need.
Warehousing
Available blocks in our over 100,000 sq ft heated, racked, and organized Rhode Island warehouse facility
learn more
Latest News
Videos from the  "Torch Run Convoy" for the Rhode Island for the Special Olympics. This is an international awareness and fundraising event, the Truck Convoy® is a unique partnership between law enforcement and truckers to raise funds for Special Olympics so athletes can continue to train in year-round sports and health-related activities. All proceeds from this event benefit the athletes of Special Olympic Rhode Island. N&D Transportation Company was honored to have been selected to be the lead vehicle in the convoy. All of us at N&D wish all the best for our Rhode Island Olympians in this very exciting Olympic event!
"Great company nice people to work for"
- JP
"Great company; excellent customer service that delivered. Quick turn around time and great rates."
- LMC
"Dependable warehousing services and VERY helpful staff. All my questions were answered in one phone call and they picked up my things that day for storage. Very satisfied!"
- BB
"There are very few trucking companies that stand out from the rest. N and D transportation was an asset to me keeping 2 very large clients. There drivers are intelligent, Clean-cut hard-working people. Brenda is beyond helpful and patient in my time of crisis. David Duhamel was the most professional person in the trucking industry I have every dealt with. He and his company will be the first people I am going to call for any east coast transportation that I need. Thank you personally and professionally for the hard work, the dedication and service that you provided me. To anyone who is reading this, look no more, you found your New England trucker."
- ES