Logistics is a fast-paced industry. Businesses and logistics providers have to adapt to changes in the market quickly or get left behind. The ongoing supply chain backlog is a perfect example. 
Businesses who import products from overseas are feeling the crunch especially hard, thanks to the backlogs of shipping containers at major ports across the globe. The delays can be incredibly frustrating for both business owners and for customers. But there are ways you can help steer your business through the storm. 
Here's what you need to know about port shipping container backlogs and how you can help your business adapt to supply chain disruptions. 
What is causing the supply chain backlog? 
The supply chain bottlenecks aren't just a localized issue. The lingering COVID-19 policies have impacted the production of new goods. Yet towards the end of 2020, consumer demand for goods soared to pre-pandemic levels, causing a massive increase in inbound cargo at ports. 
This has caused a supply chain backlog at many American ports, particularly in container ship backlogs.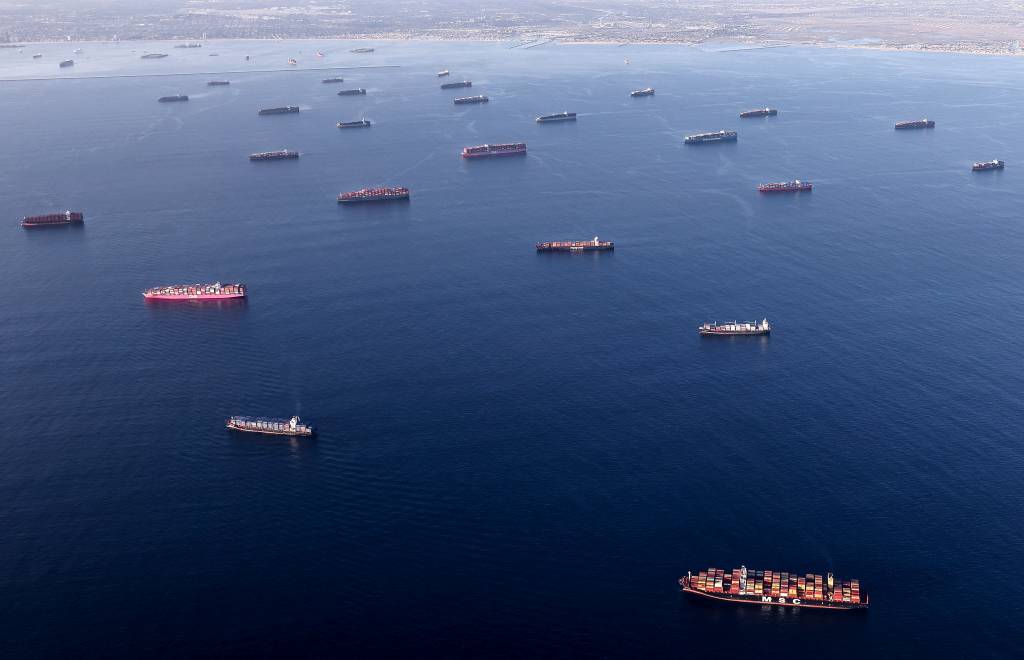 Container ship backlogs at inland ports
One of the biggest contributions to supply chain backlogs on overseas imports is port congestion. The Port of Los Angeles reported one of its busiest months in history in September 2021. Total cargo is up 25% from 2020. According to the Wallstreet Journal, combined inbound volume fell about 14% at the Port of Los Angeles and other California ports. 
The east coast is facing similar problems. As of December 2021, the Port of Boston is operating 30 days behind on a 30-day schedule. "It's unprecedented," said port director Mike Meyran. "We're going into a year of the supply chain being extremely disrupted. The longer it goes, the longer it will take to dig out of it."
The short-staffed ports can't keep up with the backlog of shipping containers clogging their terminals. In other words, the backlog of shipping containers is increasing, while incoming shipments are decreasing due to the overcrowding at the ports. 
This has also caused a shortage of shipping containers, making the cost for shipping overseas more expensive. The average cost to ship a 40-foot container rose 80% in July 2020. The extra expense also means that shipping rates have increased for both retailers and end consumers. 
Domestic shipping disruptions because of the supply chain backlog
Shipping container backlogs aren't the only issue causing delays. Truckers are facing their own staffing shortage. According to the CEO of the American Trucking Association, the industry needs around 80,000 new truck drivers to meet the current demand. This means that you can still face delays on delivery, even after your imports have made it onto dry land. 
It's a frustrating cycle that doesn't show signs of easing up anytime soon. However, while things may seem bleak, that doesn't mean it's impossible to keep your own business's supply chain consistent. You can adapt to supply chain disruptions with the help of a good transportation company. 
How can small businesses cope with the ongoing supply chain backlog?
How can a small business stay afloat during these ongoing issues? First and foremost, customer service is key. 
Customers can become agitated by extended wait times, even more so by a lack of transparency on where their items are. Be honest with your customers about the potential delays and offer frequent updates on shipping. Customers appreciate honesty and will be less likely to get frustrated or angry if you keep them in the loop. 
You can also offer other perks to compensate for delayed shipping times, such as discounts on shipping or shipping insurance for lost or stolen items.
Using a 3pl to make it through the supply chain crisis
There are other ways you can try to mitigate the delays. Before the pandemic, many businesses had a policy of only keeping minimal inventory on hand. But with the extensive delays and unpredictability of the supply chain crisis, it can pay to order items wholesale or in bulk. 
If you don't use one already, a warehouse can help increase efficiency in your supply chain. Using a third-party warehouse can allow you to store more products than you potentially could at your own facilities. You can order larger quantities of products from overseas to have on-hand domestically, ready to ship out to customers as soon as possible. 
A 3pl company can also manage the headache of supply chain issues for you. You don't have to worry about the specifics of shipping container backlogs or trucking shortages. The 3pl will handle everything for you, doing their best to get you the fastest shipping times possible. It can allow you to put your energy into other aspects of your business, like customer service. 
Who's the best warehousing and Northeastern transportation company?
Looking for a third-party logistics company to help you through supply chain disruptions? N&D Transportation Company Inc can lend a helping hand. We've served the New England community for over 50 years, adapting to countless changes in the logistics industry. Now, we're here to meet your logistics needs during the supply chain crisis. 
We have over 100 owned equipment units in our fleet at our North Smithfield facility, ready to handle your freight. We also offer warehousing services, allowing you to store your products domestically for as long as you need them. We'll help you navigate the uncertainty of the ongoing supply chain issues and help your business run smoothly. 
Contact us now to learn more about how we can help you.