America was built on railways. Today, the rail system is still a crucial aspect of the nation's supply chain, shipping over 30% of the country's freight. But what would happen if there was a rail strike? N&D Transportation Company Inc will explain the pitfalls of a potential rail road strike and the effects it would have across multiple industries
Railroad workers have been threatening to strike after three years of railroad contract negotiations failed in 2022. If a strike does happen, it could create massive ripple effects for both the supply chain and the United States economy as a whole. Here's what you need to know about a potential national rail strike in 2022, along with what that means for the logistics industry.
What is the rail strike? Why are the railroads striking in 2022?
In the United States, 12 railroad unions represent around 115,000 railroad employees. The unions have been unable to settle 2022 railroad contract negotiations with major rail companies, which could trigger a strike.
According to current and former railway workers, working conditions deteriorated during the pandemic, with one major rail company instituting rigid 24/7 on-call scheduling requirements.  Some workers report that they can't take sick days without fear of being penalized. They also say they haven't received raises in years, despite inflation.
"Railroaders are discouraged and upset with working conditions and compensation and hold their employer in low regard," said Tony D. Cardwell, President of the Brotherhood of Maintenance of Way Employes Division (BMWED) rail union.
Moreover, Cardwell says that railroad employees don't feel valued and are "united in their resolve to improve their working conditions across the entire Class I rail network."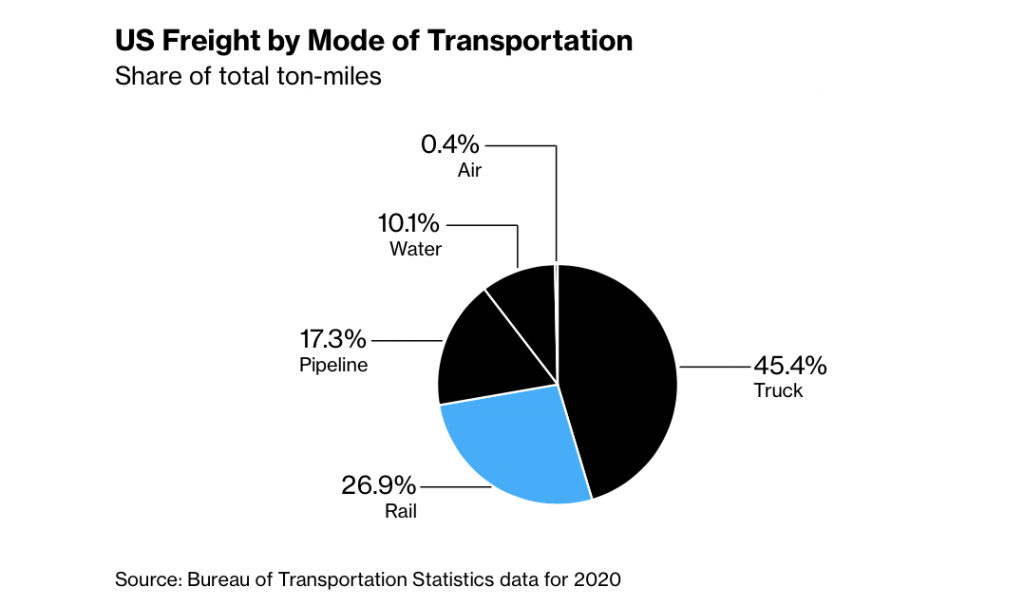 What will happen if the railway goes on strike?
This is the first time a National rail strike has been on the table in 30 years. So how would that affect today's economy?
According to the Association of American Railways (ARA), a railway strike could cost the economy up to $2 billion dollars of damage per day. This is partly because the U.S. economy is more connected to global trade than it was in the 1990s. Without a doubt, railroads are a major factor in America's international supply chain. Around 40% of the carloads that American railroads carry come from International trade.
"Widespread rail service disruptions are challenging supply chains and negatively impacting a variety of industries, raising prices for both freight shippers and United States consumers," said Chet Thompson, President, and CEO of the American Fuel & Petrochemical Manufacturers, in an open letter.
What types of industries would be affected by a rail strike?
A full shutdown would affect a wide variety of industries, including:
Furthermore, a railway strike would also interrupt passenger trains, which hundreds of thousands of commuters depend on weekly. For instance, 97% of Amtrak's current rail tracks are owned and maintained by freight railroads. Subsequently, shutting down these railroads would cripple many Amtrak routes.
Is the railway strike averted?
In September 2022, President Biden announced that after 20 hours of rail labor negotiations, a tentative deal had been reached with the unions. The deal would have given railroad workers a 24% raise and $5,000 worth of bonuses.
However, the deal fell through when BMWED union members voted against the proposed deal, citing a lack of paid time off, including sick days. Also, the BMWED felt that working conditions could be better improved, putting a strike back on the table.
Which trains are on rail strike?
Currently, no major American railroad workers are on strike, but that could change in the coming months. The BMWED union agreed to hold off on a potential strike until after mid-November. It's possible that a deal could arise with form further negotiations when congress reconvenes.
What does the railway strike mean for the trucking industry?
What about the trucking industry? Could it pick up the slack from a potential railway strike? Experts don't think so.
"While trucking and rail companies compete for ground freight, trucking is also the largest customer of the rail industry," said Chris Spear, American Trucking Associations President, in a letter to Capitol Hill.
According to spear, idling all 7,000 long-distance daily freight trains in the US would require more than 460,000 additional long-haul trucks. The trucking industry doesn't currently have this level of equipment. And even if it did, it doesn't have enough drivers to operate them. The trucking industry is still short of around 80,000 drivers.
"Any rail service disruption will create havoc in the supply chain and fuel inflationary pressures across the board," said Spear. "Both industries rely on one another to keep our supply chains healthy and efficient. [The trucking industry] delivers the last mile of virtually every product that rail transports… the industries depend on each other to meet domestic and international demand."
In addition, on the consumer side of things, customers may wait longer to receive essential goods or that freight rates may increase yet again on top of pandemic prices.
How can I manage my supply chain through a railway strike?
Even if you don't ship items by rail, a potential railway strike could still impact your business – as it can for nearly every industry in the US.
While we don't know what the future will bring, N&D Transportation Company Inc will meet your logistics needs throughout difficult times. For instance, we offer direct distribution throughout New England and nationwide distribution with our partner carriers.
We'll help you discover the fastest, most economical solution for your supply chain and help keep your logistics running as smoothly as we can. Contact us today for more information on how we can help you.