Prices are climbing everywhere–at the gas pump, the grocery store, and even in online shopping carts. The Bureau of Labor Statistics reported that inflation hit an all-time high in March 2022, at 8.5% – the biggest cost increase since the 1980s. Also, any 2022 inflation forecasts argue that this isn't even the peak. Inflation and logistics are causing a major headache regarding global supply chain issues
These massive jumps in price have brought inflation and supply chain disruptions to the forefront of Americans' minds. But what's causing all of the price increases? And how does inflation affect the logistics industry–and vice versa?
Keep reading to learn more about how inflation and global supply chain issues are impacting the logistics industry.
What is causing inflation?
The global supply chain is an interconnected web. It's difficult to pin the rising cost of goods and services on any one point. Inflation often works in a ripple effect, where one price rising affects another and so on, creating a cycle.
Naturally, producers set prices to maximize their own profit. But when prices increase for materials, labor, or shipping and logistics services, they may need to raise prices to see the same returns.
Here are some of the factors affecting inflation and price increases in the logistics industry.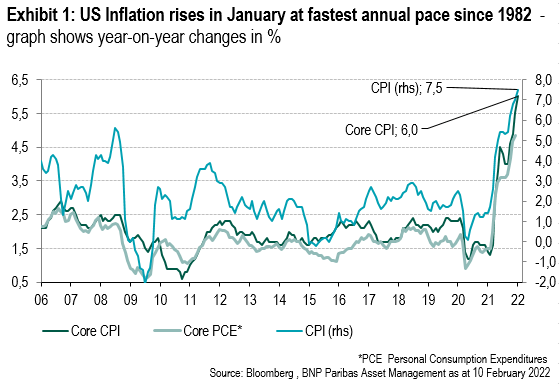 Inflation And Logistics Part 1 – Port congestion
The COVID-19 pandemic shifted consumer priorities for goods. For instance, instead of spending on dining out, entertainment, and travel expenses, Americans shifted their spending habits towards items that reflected their pandemic lifestyles–like food and online shopping.
The unexpected demand for certain items combined with the pandemic's effect on production created a bottleneck in the supply chain. This led to massive supply chain disruptions, including container ship backlogs at American ports. According to Marine Traffic, port congestion eased on the west coast in April 2022, while ports on the east coast saw an uptick in traffic.
Eventually, the increased backlog led to a shipping container shortage, which made shipping items overseas even more expensive. Eventually, the inflated shipping rates have been passed on to both retailers and consumers.
Inflation And Logistics Part 2 – Oil Price Increase And Energy Costs
The increased cost of oil and diesel has hit prices in the trucking industry particularly hard.
Oil prices began to climb in 2021. But the war in Ukraine exacerbated already expensive prices. As of May 2022, oil prices currently hover around $110 a barrel. The average cost for a gallon of diesel fuel in the New England area is $6.43–over 100% higher than it was last year.
Owner-operator truckers are especially feeling the crunch since they pay for their own fuel. It can cost $1,000 or more to fill up a big rig tank in 2022. The US Producer price index for general freight trucking is at a current level of 224.93 – 32.55% more than it was 1 year ago.
This will eventually lead to independent truckers either going out of business or being forced to raise their rates. As a result, store owners will usually end up passing the price increase onto consumers.
This increase in fuel prices has renewed interest in alternative and renewable fuel sources. American Trucking Associations President and CEO Chris Spear called on the trucking industry to secure its own energy future in a statement.
"The trucking industry supports an all-of-the-above approach when it comes to securing our energy future," said Chris Spear in a statement. "But the transition to cleaner and renewable fuels over the horizon requires a practical, common-sense bridge in the here-and-now, beginning with the abundant sources readily available here at home."
Inflation And Logistics Part 3 – Truck Driver Staffing Shortages
The trucking industry as a whole still faces a labor shortage. In 2021, the American Trucking Association reported a deficit of around 80,000 drivers. Trucks are responsible for moving more than 72% of American freight, so this disruption is significant.
The American Trucking Association states that there's no single cause for the driver shortage. Instead, they cite a patchwork of factors, including the high average age of drivers, the pandemic, and the difficult lifestyles that long-haul truckers face.
Truck drivers are the backbone of the American logistics industry. When there aren't enough drivers to fill the current demand, supply chain disruptions follow. This ends up compounding existing problems such as port backlogs and delayed shipping times.
What businesses can do during inflation and global supply chain issues
Inflation isn't likely to go away any time soon. Neither are many of the lingering global supply chain disruptions. To navigate these complex new challenges, businesses should take a calm and measured approach to the situation.
Be honest with customers about price increases for shipping and with any delays for imported goods. No one likes paying more or waiting for long periods of time. But most people will appreciate being kept in the loop.
To combat long wait times for items transported overseas, using a 3rd party warehouse could help increase efficiency in your supply chain. This could allow you to keep products on hand domestically, keeping shipping times lower for consumers.
If you don't work with one already, a dedicated third-party logistics company on your side can be a valuable tool. A 3pl can work with you to find cost-effective solutions and manage your logistical needs for you so that you can focus on other aspects of helping your business through inflation.
A northeast trucking company to steer you through the storm
If you're looking for a dedicated third-party logistics company for your business, N&D Transportation Company Inc. is here to help. We are a noted Northeast Trucking company and provide nationwide coverage through our partner carriers.
We're served the Rhode Island community for over 50 years with truckload and less than truckload shipping services, and with warehousing fulfillment at our Smithfield facility. We've successfully adapted to changes in the logistics industry and helped our customers manage their shipping and freight needs. We'll work hard to find the most cost-effective shipping solutions for you and help steer you through an uncharted sea. Contact us today for information on rate quotes, pickup requests, and more