Not every business has the bandwidth to stock, distribute, and ship goods themselves. For instance, companies and brands who would prefer a more convenient solution, would rather outsource their logistic needs to a third-party logistics provider, or "3pl", could provide the solution they need. A 3pl warehouse can help with nearly every aspect of a supply chain — from transporting raw materials to a factory to shipping finished products straight to a consumer's door. They can even be more cost-effective than trying to do it all on your own, too.
If you're curious about how a 3pl warehouse could revolutionize your supply chain, read on to learn about 3pls in-depth and get practical examples of how they could affect your everyday business.
What is a 3pl in logistics?
A 3pl provider is an outsourced company that takes care of a business's logistics needs. They act as middlemen for companies throughout each step of their supply chain.
Furthermore, you don't need to hire staff, purchase or build fulfillment centers, or supervise the day-to-day operations of warehousing or distribution centers. Instead, all you have to do is pay the 3pl a retainer fee to handle all of your logistics tasks for you, allowing you more time to focus on other aspects of your business.
What kind of services does a 3pl provide?
When we say that 3pl services can help you with every aspect of your supply chain, that's not an understatement. A few examples of the services they can provide include:
Trucking: A 3pl often employs its own trucking staff. They may offer truckload (TL) or less-than-truckload (LTL) shipping services.
Inventory management: A 3pl can offer dedicated warehousing services to store your goods. They can store and organize your goods, then pick, pack, and ship orders without skipping a beat.
International trade: If you need to import or export products from outside the country, a 3pl can help you with customs clearance or compliance and help you get your shipments out on time.
Reverse logistics: If you have customers who need to make returns, a 3pl can help you coordinate reverse logistics services, allowing you to offer more extensive customer service.
Additionally, 3PLs have a wide range of industry expertise. Their in-depth knowledge and connections help with essential logistics tasks, like negotiating the best shipping rates and packing and distributing orders on a moment's notice.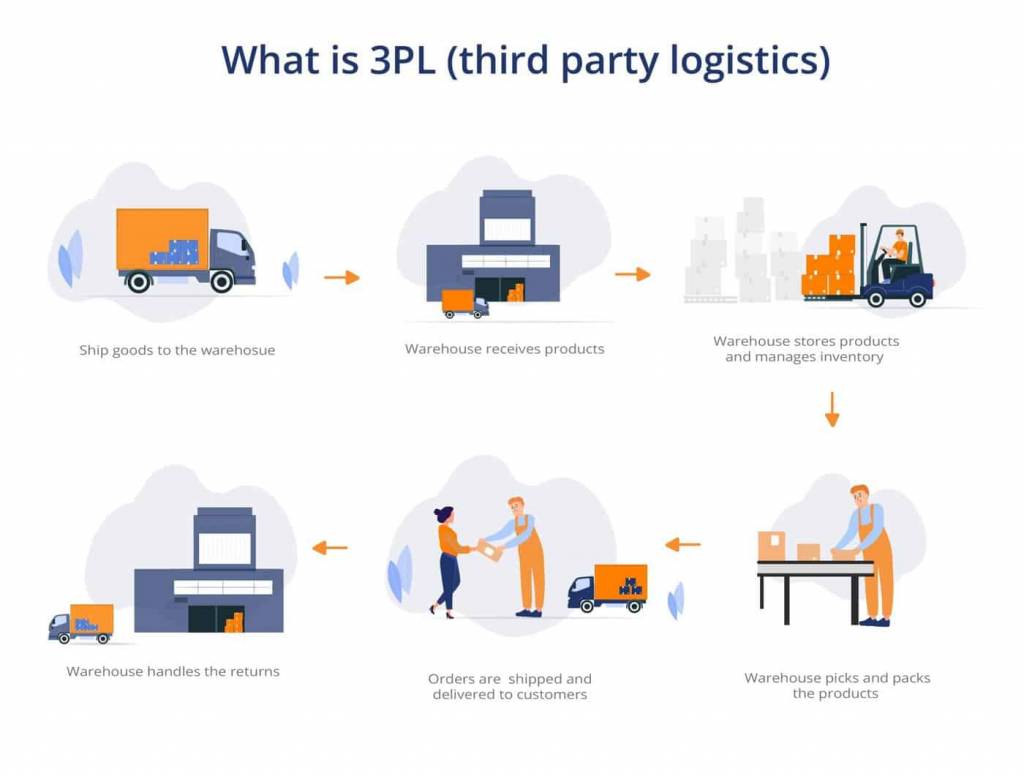 What is a 3pl warehouse?
A 3pl warehouse is a facility where the third-party logistics provider can store your goods for the long or short term, keep them safe for as long as you need them, then ship them out to their next destination.
Some 3pl warehouses also double as fulfillment and distribution centers. Meaning they distribute orders directly from the facility rather than coordinating with another party who'll take goods to their final destination
What is inventory management in the supply chain?
In the supply chain, inventory management is about overseeing and keeping track of goods to help meet a business's demand and avoid under or overstocking.
For example, to help with inventory management, most 3pls use a form of warehouse management software (WMS) for better organization. This allows warehouse operators to understand where everything is at all times, like a blueprint of your goods. You can use the information they supply to keep track of market trends and predict when you need more stock.
What are the benefits of working with a 3pl warehouse?
Understanding the services that a 3pl can offer is one thing. But how does this translate into benefits for your business? There are a number of ways that a 3pl warehouse could make your day-to-day operations more seamless. Examples include:
More efficient delivery times: Firstly, many 3pls offer direct fulfillment services, meaning that goods are shipped directly from the warehouse, which helps save time. Secondly, some 3pl warehouses are located close to major highways, so your items can get on the road faster.
Better scalability: If your inventory needs suddenly spike, you don't need to sink money into expensive new facilities. Instead, all you have to do is lease more warehouse space. And if the opposite happens, you can just dial back the warehouse space you're renting. Easy-peasy!
More organization: If you've ever had a hard time keeping track of your inventory in a garage or on-site warehouse, a 3pl's WMS can help you track your inventory more efficiently. You'll know what goods or supplies you have at all times and can avoid under or overstocking.
Navigating regulations: A 3pl warehouse can follow all the rules and regulations associated with storing potentially hazardous products, like chemicals. Their personnel is specially trained to prioritize safety and industry standards, which can offer you peace of mind.
Most importantly, working with a 3pl can take the stress and worry out of storing and shipping items yourself. For example, if you're tired of coordinating orders on your own or dealing with the hassle of maintaining your own storage facility, working with a 3pl can take a weight off your shoulders.
A northeast warehouse and 3pl distribution center to upgrade your supply chain
If you're looking for a 3pl in Rhode Island that can streamline your supply chain, N&D Transportation Company is ready to roll. Our 12-acre North Smithfield facility is home to a 3pl distribution warehouse, where we can store your products long and short-term or distribute them for you. As a recognized top-tier northeast warehouse, our reputation speaks for itself when it comes to cleanliness, customer service, and pricing.
When your freight arrives, we check the packing slip for any discrepancies. You'll get a signed copy of the packing list for your records, then your goods will rest in our racked and heated storage space for as long as you need. We'll pack your orders and ship them for the next step in your supply chain.
If you're ready to forget the headache of managing logistics on your own and start working with a 3pl, contact us today for a rate quote.