Good customer service involves several different factors, but there's one you may not have considered: Your warehouse management system. An organized warehouse is an efficient one. Therefore, by leveraging your warehouse management system to its fullest extent, you can keep your customers satisfied and coming back for more.
Below, learn more about the connection between warehouse management systems and customer service, and get insight on a Rhode Island third-party logistics provider who can upgrade your warehousing needs.
What is a warehouse management system in logistics?
A warehouse management system (WMS) is a type of software that manages and organizes the daily operations of a warehouse. Furthermore, a WMS can oversee several different functions, including:
Tracking inventory and managing the restocking process
Generating packing slips and labels
Optimizing picking and packing
Tracking and managing orders
Managing and automating returns
Providing data for analytics
Types of warehouse management systems: Examples
Firstly, there are two basic types of WMS software that can be implemented in a warehouse. Both provide their own set of pros and cons, which can include the following:
On-premise systems: These systems are hosted and maintained at the facility on internal servers. This can allow a greater degree of customization options and more direct control over the WMS. However, it can also be expensive and resource-intensive to maintain.
Cloud-based systems: This type of WMS software is hosted externally on the internet by a third party. While they provide less direct control over the software itself, they can also be more affordable and provide the same warehouse management system functions without devoting the same resources.
Both WMS types can still accomplish the same overall goals. So, the choice can depend on your budget and personal preferences. Of course, you can also eliminate the decision altogether by contracting with a third-party warehouse that already has a WMS implemented.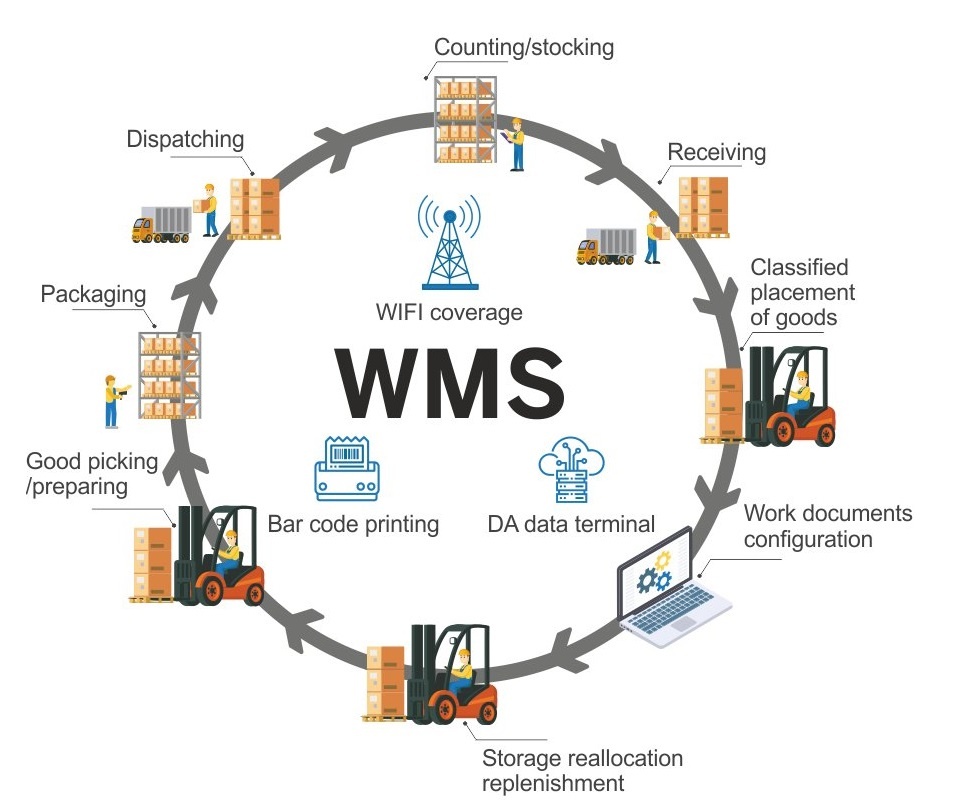 How does a warehouse management system affect customer service?
So, how does all this tie into your customer services? A WMS can provide the following benefits to your shipping and distribution process, which could enhance your customers' overall shopping experience.
Faster order fulfillment
Now more than ever, fast shipping is a crucial component to earn loyal customers. According to a 2021 retail report from Omnichannel, 85% of consumers will shop around for faster shipping when buying products online.
A WMS can offer suggestions for ideal storage locations of products inside the warehouse, which can optimize the warehouse's layout and streamline the picking and packing process. Efficient storage locations can also minimize internal delays and allow orders to ship out faster. What's more, some WMS software can even prioritize rush orders for expedited shipping services.
Better order tracking & communication
Many WMS systems include features that allow a customer to track their order in real time and receive automated notifications about their package's shipping status.
More in-depth tracking options could also keep customers coming back for more. In a survey from Optimoroute, nearly 25% of online shoppers said that they would be extremely likely to return to a brand that provides real-time order tracking.
Added order accuracy
A fast delivery doesn't mean much if the package doesn't contain the right items. Luckily, an efficient WMS can minimize picking errors.
When a warehouse worker takes a product off a shelf for packing, they'll typically scan a barcode. The WMS will compare the scanned code to the one in its database, helping to catch errors before the package gets on the truck.
Keep Popular Items in Stock With A Warehouse Management System
A WMS can also help you get real-time information on your current inventory levels. Some can even automatically reorder products on a given schedule or when inventory dips below a set threshold.
Not only can this streamline your restocking process, but it can also allow you to track patterns to determine your most popular products. Additionally, a WMS can scale with your business, ensuring that your inventory remains optimized even during periods of growth.
Better Returns System
Around 16% of all online orders will end up returned to the retailer's warehouse. Thankfully, a WMS can streamline returns by automating the process. It can start return authorization, generate labels for customers, and guide staff on how to appropriately re-stock items when they arrive.
This makes returns easier for your customers and can keep them coming back for more. According to a survey from Narvar, around 95% of polled online shoppers would become repeat customers if a retailer provided a good return experience.
Conclusion: Warehouse management system and customer service
Good warehouse customer service can start with a well-organized warehouse. Implementing a WMS can help you track inventory, facilitate faster shipping, manage returns, and more. These combined benefits can keep shoppers happy with their experience, allowing you to grow your business and maintain a loyal customer base.
A New England warehouse to boost your customer service
Of course, running and maintaining your own warehouse can be challenging for a small or medium-sized business. So, if you need to outsource to a third-party warehouse, N&D Transportation is ready to take the weight off your shoulders.
Our Rhode Island warehouse can provide heated, racked, and organized storage for all your products. Thanks to our efficient WMS and dedicated staff, we can optimize the shipping processes for faster shipping times. Importantly, we can even provide direct distribution services throughout the New England area, so you don't need to contract with a separate trucking company. Therefore, if you're looking for warehouse space for rent, call the best New England warehouse around.
We understand how crucial warehouse customer service is, and we'll treat you with the same courtesy and respect that you provide your own customers. Contact us today for more information on how we can help your business.