Truck driving careers offer many opportunities for high wages, flexible hours, and steady employment. But not all trucking jobs are created equal. Trucking jobs run the full gamut from local runs in your home state to cross-country trips that take weeks at a time. 
If you're thinking about becoming a truck driver, it's important to know what kind of jobs are out there so that you can make an informed decision on your career. That's why we've put together this overview on the different kinds of trucking, along with how to decide which one is right for you.
What are the advantages of becoming a truck driver? Trucking jobs in depth
Trucking is one of the most in-demand jobs in 2022. The industry needs an estimated 80,000 new truckers to keep up with demand. Moreover, this makes licensed CDL drivers a valuable asset for potential employers. 
According to Indeed, the average trucker earns $73,118 per year. You can choose to work as an independent contractor, or work as an employee for a transportation company and enjoy traditional benefits, like health insurance and a 401k. 
What are the different kinds of trucking jobs available?
There are 3 main types of trucking jobs. Local, regional, and Over the Road (OTR) trucking. 
Local and regional trucking are both dedicated route trucking jobs. This means that you'll drive the same routes on your trips. Conversely, with OTR or long-distance trucking, you'll drive cross-country routes that are often unfamiliar and new. 
Each type of job is equally important to the supply chain and each offers its own set of pros and cons. Here's an explanation of the differences between each type of trucking.
What is local trucking?
Local truck drivers operate close to their homes. They typically drive within a 200-mile radius and work a standard 8-10 hour workday. Additionally, many local truck drivers complete routes entirely within their state in dedicated truck routes. 
Local trucking allows you the advantage of staying close to home. Therefore, you can complete your runs in a single day and be home by nighttime. This makes local trucking an appealing option to drivers with families or anyone who doesn't want to drive long distances. 
Local truckers need to have an intense familiarity with their routes. For instance, employers often require that drivers have 1-2 years of experience before hiring for a local route. This can make it difficult to find a local route position as an entry-level driver. In addition, some truckers might also find local trucking mundane or boring compared to cross-country OTR trips. 
What is regional trucking? Local vs regional trucking
In regional trucking, truck drivers will operate within a wider region than local trucking. The region typically encompasses a 1,000-mile radius and may include several states. For example, New England regional trucking companies may provide dedicated routes throughout Rhode Island, Massachusetts, Pennsylvania, New York, and other nearby states. 
Like local trucking, a regional truck driver often makes day trips. Although you'll cover a much wider area than a local trucker, you'll still need to have familiarity with your routes.
For many truckers, regional trucking offers a convenient middle ground between OTR and local trucking. For example, you can enjoy the familiarity of staying close to home and the adventure of longer trips. Moreover, regional trucking also offers a competitive salary and is often friendly for entry-level drivers.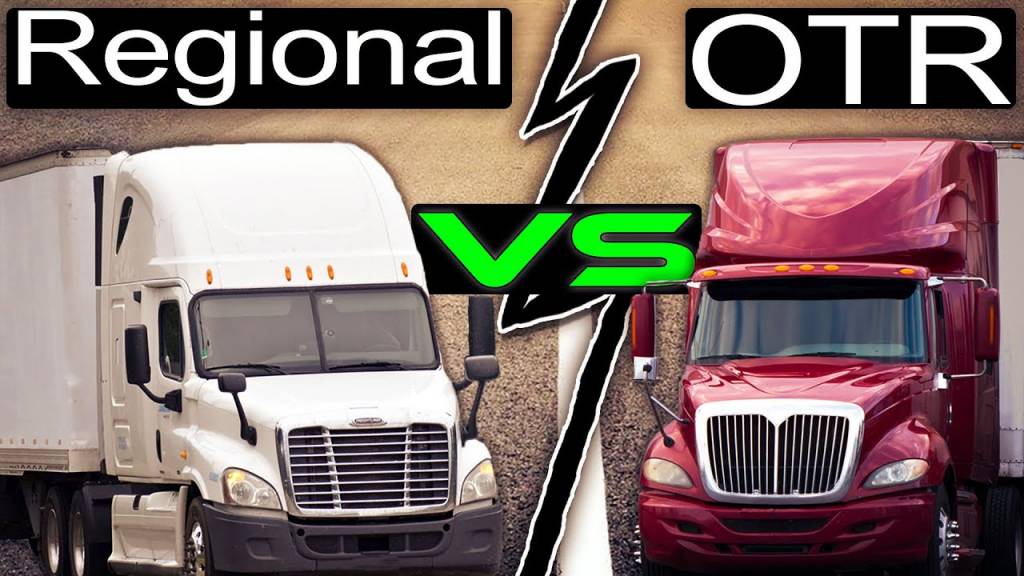 What is OTR trucking?
What does OTR mean in trucking? OTR stands for "Over the Road" and involves extended trips across a large geographic area, typically done by heavy haulers. You might also know OTR trucking by another name–long haul trucking. 
With OTR trucking, you'll haul cargo hundreds or even thousands of miles cross-country. Some OTR truckers even venture into Canada. 
OTR trucking offers the opportunity to travel the country. It's one of the best trucking jobs available for those with a sense of adventure. For instance, you can drive to the opposite coast and get paid to do it–and paid well. An OTR driver salary is often one of the highest among all trucking jobs. 
However, OTR trucking has the drawback of long hours spent away from home. This can be less than ideal for truckers with families, or anyone uncomfortable with spending long weeks away from home. OTR trucking often doesn't come with a regular or predictable schedule, either.
Which kind of trucking job is right for me? 
The type of trucking you'd like to pursue depends on what you want out of your career. If you want to stay close to home or work on a steady schedule, local or regional trucking offers a fantastic opportunity. If you'd like to travel long distances and enjoy a more non-traditional career path, OTR trucking might be the perfect fit for you. 
You could always try one type of trucking, then switch to another. For example, you could begin your career as an OTR driver, then settle into local or regional runs later on in your career. 
How do I become a truck driver?
To become a truck driver for any kind of trucking, you'll need to have a valid Class CDL license.
To obtain a Class a CDL, you'll need to have a valid Class D driver's license, complete enough hours of driving practice, and pass both a written and practical exam. You can see our guide on obtaining a Class A CDL in Rhode Island here.
Looking for dedicated route trucking jobs at a New England transportation company?
If you're looking for steady employment as a truck driver in the New England area, call us. 
As one of the top Northeast trucking companies, N&D offers dedicated route trucking jobs throughout the New England area and OTR opportunities through our partner carriers. Our drivers enjoy a competitive benefits package, including paid vacation, health insurance, an employer-matched 401k, and more. 
See our career page for more information on open positions.