Truckers are the lifeblood of the American economy. In 2019 alone, they were responsible for transporting more than 791 billion dollars' worth of goods across the country, and they're also responsible for transporting more than 70% of all domestic tonnage shipped in the USA.
They keep our country running day in and day out, and none of us could live the lives we do without truckers at the wheel. Because good truck drivers are in such high demand, trucking is also an exciting and rewarding career field. If you're interested in joining this thriving industry, you first need to obtain a commercial driver's license. That is why we've put together this guide about how to get your CDL license in Rhode Island!
What is a Commercial Driving license? (CDL)
First things first, let's talk about what a CDL license actually is. CDL stands for "commercial driving license" and is also known as a Class A license. These licenses are required by federal law if you want to drive any kind of heavy rig commercially, including trucks and school buses.
Each state has its own unique set of rules and guidelines for obtaining a Class A CDL license, and we've gone over the basics for how to get your RI CDL below.
How to get a CDL Class A license: RI CDL essential documents
In Rhode Island, you must be at least 21 years or older to obtain an interstate Class A CDL license. You also need to possess a Class D (regular) license for at least two years. However, if you only want to drive inside RI, you can obtain an intrastate (inside RI only) Class A license at 18. You can always go back for your interstate license after you turn 21.
You'll also need to provide all the necessary documents to the RI DMV, including your social security card, birth certificate, proof of RI residency, and a valid Medical Examiner's Certificate (MEC). You can obtain a MEC by passing a physical exam given by a certified medical examiner. You can see the complete list of everything you need to bring at the RI DMV's website.
After you've provided all the necessary documentation and filled out the CDL application form, you'll be allowed to take a written test.
How to pass the RI CDL permit test
Rhode Island requires that all prospective licensees pass a general knowledge exam before going any further in the licensing process. You can study by reading the Rhode Island Commercial Driver's Manual and view practice questions online here.
If you fail the exam, don't sweat it too much. You can always retake it after 5 business days. Once you pass your written exam, you'll be given your commercial driver's permit (CDP), which is a limited version of a CDL.
Like a regular learner's permit, a CDP comes with its own set of restrictions. You can only drive under the supervision of someone who holds a valid CDL, and you can only drive vehicles of the same class of CDL that you're applying for. IE. If you're applying to drive school buses, you can only get behind the wheel of a vehicle in the same class as school buses.
RI driving schools
After you've obtained your RI CPL, it's time to start getting in practice behind the wheel of a big rig truck. This is when it's time to enroll in a driving school. There are numerous schools located throughout the Rhode Island and New England areas. Netts CDL driving school in Pawtucket, RI is one of them.
Netts offers several different Class A CDL training programs that teach you how to drive, park and maneuver a big rig truck safely and confidently. They'll help you get both the knowledge and the hands-on experience you need to pass your Class A driving exam. And, depending on where you live, you may even be able to take your Rhode Island CDL test directly at their school.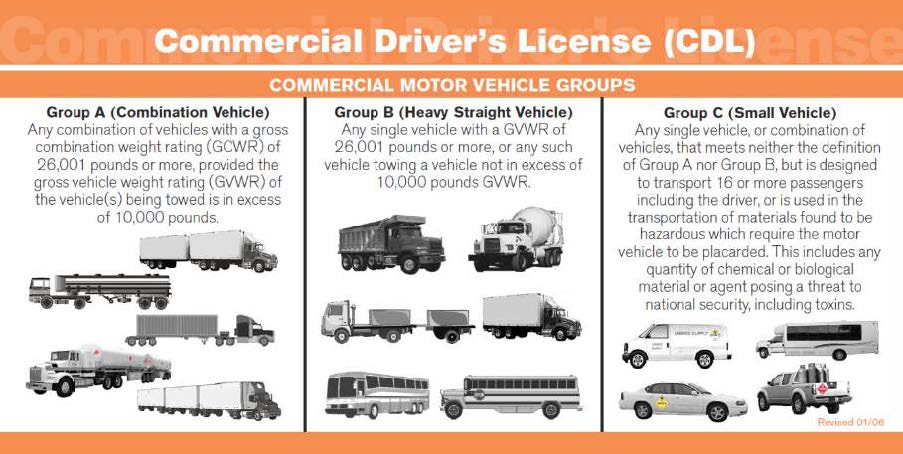 Class A CDL Rhode Island practical test
After you've passed your written exam and gotten in plenty of practical experience at your chosen driving school, it's time to take your Class A driver's exam. You'll need to provide your own vehicle and licensed supervisor to take this exam, which is where the help of a trucking school comes in handy. Most trucking schools will provide you with a vehicle and a supervisor for the test as part of their training programs.
The exam consists of 3 parts. First, you'll complete a Class A CDL pre-trip inspection, which consists of you identifying and evaluating the safe function of your vehicle parts. Next, you'll go through a series of basic vehicle control drills to evaluate your ability to turn, reverse and accurately maneuver the vehicle at slow speeds. Finally, you'll complete an on-road exam, where you'll venture out onto public roads and drive your vehicle in real traffic.
After you have successfully passed each section of the exam, congratulations! You've officially become a licensed CDL driver!
Waive the road test if you have military experience
If you have experience driving a heavy-duty vehicle in the military, you may be able to skip the road test altogether. The RI DMV offers a military skills test waiver for military personnel who have experience operating heavy machinery. This will allow you to obtain a commercial driver's license without taking the RI CDL road test.
You will still need to pass the written test, however. You can view the form on the DMV's website for more information.
Looking for local truck driving jobs in RI?
If you have a valid Class A CDL license for Rhode Island, New Hampshire, or Massachusetts and are looking for a reputable company to work for, we want to hear from you.
N&D Transportation Company, Inc. has been a proud employer of Class A CDL drivers for over 50 years. We provide a competitive benefits package to all of our drivers, and we offer local work throughout the New England area, including daily runs to New York and New Jersey, and dedicated delivery work in the NorthSmithfield RI area.
Check out our employment page today to see our list of open CDL jobs in Rhode Island, or contact us for more information at 401-762-3337 or www.ndtransportation.com. We can't wait to hear from you!