If you're exploring different shipping options for your business, you may have come across the terms "TL" and "LTL" before. TL stands for "Truckload," while "LTL" stands for "Less Than Truckload." But what does LTL vs TL shipping actually mean?
Both are valid shipping methods to get your items from point A to point B. But the right one for your business will depend on a number of different factors. Below, discover the differences between TL and LTL shipping and which option you should choose for your logistics needs.
What is LTL shipping?
LTL, or less-than-truckload shipping, allows freight that belongs to multiple people to share space on the same truck. The vast majority of commercial deliveries are LTL. When you order a package that's delivered by UPS, USPS, or FedEx, it's almost certainly shipped LTL.
LTL shipping is usually reserved for smaller commercial deliveries or direct distribution. It's also typically cheaper than other kinds of shipping, making it a cost-effective choice. However, it may also come with longer transit times or shipping delays, and you won't have as much control over your items as you would with TL shipping.
What is TL freight?
With TL, or truckload shipping, your items will be the only ones on the truck. Some companies may also use the term FTL. Basically, the FTL meaning stands for "full truckload."
TL shipping is best reserved for large, heavy, or bulky shipments that would be impractical to share with other items. Since your items will be the only ones on the truck, you don't need to worry about potential shipping delays due to other stops. Your items can go straight to their destination. But the exclusivity of TL shipping comes with a higher price tag, which may make it less cost-effective than LTL shipping.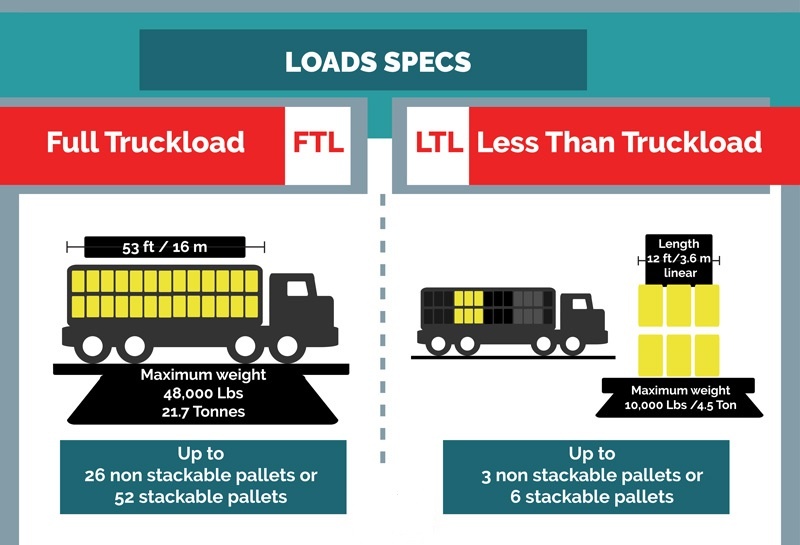 LTL vs TL shipping: Which is Right for Me?
As you can see, both TL and LTL shipping feature a unique set of benefits and potential drawbacks. But they're both valid solutions for your potential logistics needs. If you need help deciding between TL or LTL shipping, consider the following factors to help you make a decision.
Shipment size: A single truck can only carry so much weight at once. LTL shipping is usually limited to shipments that weigh 15,000 pounds or less, while TL shipping is generally for shipments that weigh between 15,000 to 44,000 pounds.
Number of palettes: Beyond the weight of your items, the number of palettes involved will also play a role in your choice. LTL shipping is usually best reserved for shipments of 6 palettes or less, while TL shipping may be able to accommodate up to 26 palettes.
Shipping time: TL shipments tend to reach their destination faster than LTL shipments since they don't need to make multiple stops. So, time-sensitive shipments could benefit from TL services.
Packaging: With LTL shipping, you may need to adhere to specific packaging requirements so that they can efficiently share space with another company's items. However, if you choose TL shipping, you may have more freedom with your packaging choices.
Special handing: If your items are fragile or need special attention, such as temperature-controlled shipping, TL shipping may provide better control than LTL shipping.
Flexibility: If your shipments often vary in size or frequency, LTL can offer better flexibility, allowing you to adapt to irregular shipments without missing a beat.
Cost: The overall cost of shipping will depend on a number of factors, but in general, LTL shipments tend to be the more cost-effective option, as you'll essentially "split" the overhead cost of shipping with other people.
Of course, if you still don't feel confident in which shipping option is right for you, consulting with a 3rd party logistics provider (3pl) could help you make the choice for your business.
How to choose a 3pl for TL or LTL shipping
If you don't already have a regular 3pl, choosing one to work with can be a daunting decision. But if you need help finding the best LTL carriers for you, try to keep some of the following factors in mind.
Shipment range: Does the 3pl provide shipping in only a set area, or can they also distribute throughout the country? What about international shipping? Ask about the company's distribution range while vetting them.
Range of services: Is shipping the only thing the 3pl can provide, or do they also provide other logistics services, like warehousing? The more services they can handle for you, the more potential you have to save money and time using a single provider.
Experience: How long has your 3pl been in business, and how much experience do they have with shipping? Logistics is a fast-changing field. So look for providers that have stood the test of time and learned how to adapt for their client base.
Cost-Effectiveness: Of course, the overall pricing will also play a role. A good 3pl should be able to find the most cost-effective shipping solution for your business, whether you ultimately choose LTL vs TL shipping.
Need info on LTL vs TL shipping rates?
If you need a logistics provider who can help with your shipping needs, N&D Transportation is here for you. With over 50 years of experience, we're a Rhode Island trucking company with the know-how to fulfill all your key shipping needs.
We offer TL and LTL shipping services both locally in New England and throughout the USA through our partner carriers. Whether you need LTL distribution right here in Rhode Island or a TL shipment sent to California, we can help you find the most efficient and cost-effective solutions.
Plus, we provide storage services at our North Smithfield warehouse, taking the burden of storage and distribution off your hands. Contact us today for info on TL and LTL shipping rates and more info on how we can help your business.