Logistics is a constantly evolving industry. In order to stay ahead of the competition, you need to stay on top of the latest industry trends and tech. With the average warehouse spending nearly 7 weeks a year on wasted motion, there's not a minute to spare when it comes to working efficiently. Here are our top warehouse efficiency tips to keep your customers happy.
1: Optimize your storage space
Firstly, the advent of eCommerce means that suppliers have a greater demand to store inventory off-site. However, expanding your warehouse to accommodate more SKUs might not always be economically feasible. Instead, work to optimize the space you have.
Try expanding upwards rather than outward by using a racking system to store products and goods. Creating one-way aisles rather than two-way aisles can also promote efficient warehousing. This eliminates the flow of cross-traffic and minimizes the chances of collisions with equipment, helping keep your employees stay safer on the job.
Sometimes, all you need to do is analyze your warehouse layout with a pencil and paper. Give your warehouse blueprints a once-over and see if a different layout could yield more efficient results.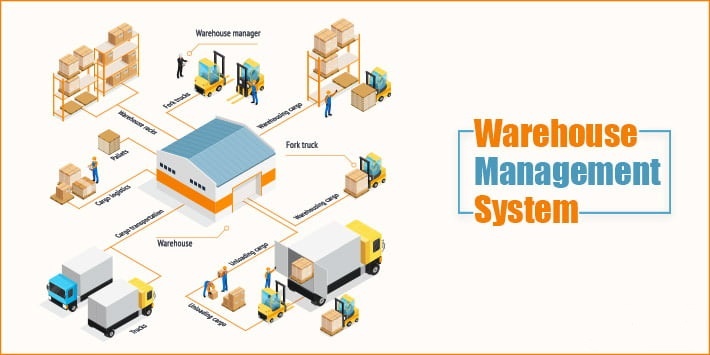 2: Implement a warehouse management system
A digital warehouse management system (WMS) is one of your most valuable tools in modern warehouse management. A WMS offers data-driven feedback on your daily operations in real time, giving you deep insight into your warehouse's daily operations. As your warehouse receives new stock, a WMS will log them along with their location. When it's time for your employees to retrieve those products for loading, the WMS can show them the most time-effective route from product to product. This can cut idle time and help you shave off some of those wasted minutes.
Some WMS also incorporate other technological advancements, like machine-learning or blockchain technology to improve your efficiency even further. Though digital warehouse management systems have been around for over a decade, advancements in technology have made them a valuable tool that every warehouse owner needs in the 21st century.
3:Upgrade your mobile tech for warehouse efficiency
In an industry where fast-paced shipping is essential, you can't afford to waste a moment on shipping out the wrong product. Handheld tablets and smartphones can be equipped with RFID scanners, or pick-to-light and pick-to-voice tech. This can reduce error picking rates by almost 70% when compared to traditional methods.
Thanks to WiFi, handheld tech also allows you access to your WMS from anywhere in the warehouse. Some WMSs can even provide employees with an optimal route to the products in order, which can help you save precious time during the picking process. This is one piece of smart warehouse technology that you won't want to pass on.
4: Audit your inventory
Inventory space is one of your most valuable assets. If you're not keeping up with your inventory regularly, you could be overstocking inventory that will only collect dust in your SKUs, or understocking fast-moving inventory. The last thing you want is to create backorders or stocking issues for your clients.
Use your WMS to audit your inventory, keeping an eye out for any items that don't move or that move too quickly. Some systems allow automatic restocking when inventory falls too low, or setting maximum caps to reduce the chance of overstocking and wasting precious warehouse space.
5: Consider warehouse efficiency automation
With technology advancing rapidly, many warehouses are turning to robotics in order to maximize their efficiency. Special logistics robots called Autonomous Mobile Robots (AMRs) can replace traditional warehouse workers. They integrate with your WMS and can do anything from retrieving products off shelves to moving whole palettes for shipping.
AMRs can drastically improve warehouse safety, since human employees don't have to go into potentially hazardous areas. AMRs can also cut costs on employment since they take the place of traditional warehouse workers. However, they aren't without their drawbacks. Robotics in logistics are an expensive investment, and it can take years to see an ROI. Remember to research all your options carefully before coming to a final decision.
6: Improve customer service
While having the latest tech on your side is a valuable asset, no piece of tech can replace the value that excellent customer service brings to your warehouse. Customers and clients always appreciate having their questions and concerns answered quickly and thoroughly. 68% of consumers say that they're willing to pay more for a product or service that provides good customer service.
Look for ways to heighten your customer experience, such as installing a chat-bot on your website for quicker responses, or hiring a dedicated customer service team for more in-depth answers for client's phonecalls or emails. Listening to the needs and wants of your customers is one of the biggest tools for success in warehouse management.
Take a lesson from the pros:
At N&D, we stay on top of the latest industry trends. We've been in business for over 20 years, so we know how to adapt and change with the times. Our Rhode Island warehouse is racked and organized for maximum efficiency, giving our customers the best delivery times possible. To learn more about how we keep our warehouse as organized and efficient as possible, contact us today.