By now, most Americans are well-aware of the tragic war on Ukraine and the devastating loss of human life. In response to Russia's invasion, The US and several European countries have imposed harsh sanctions on Russia. Subsequently, the ripple effects impact the whole global supply chain.
Here's an overview of the current sanctions on Russia and how they impact the global supply chain.
What are the current sanctions on Russia?
Currently, The United States, Canada, and most European countries have imposed sanctions on Russian banking transactions, imports, and exports.
On March 8th, 2022, the United States announced an embargo on Russian oil imports, and the EU followed with its own Russian Oil embargo on June 3rd. Moreover, the United States and the EU have also imposed sanctions against Russian ships, blocked transactions with Russian banks, and imposed asset freezes against Russian oligarchs.
Even if you don't have any direct business in Russia, your business may rely on exports from Russia or Ukraine. The indirect effects of the sanctions on the global supply chain can impact your logistics system. Let's go over some of the specific ways these Russian sanctions impact the global supply chain.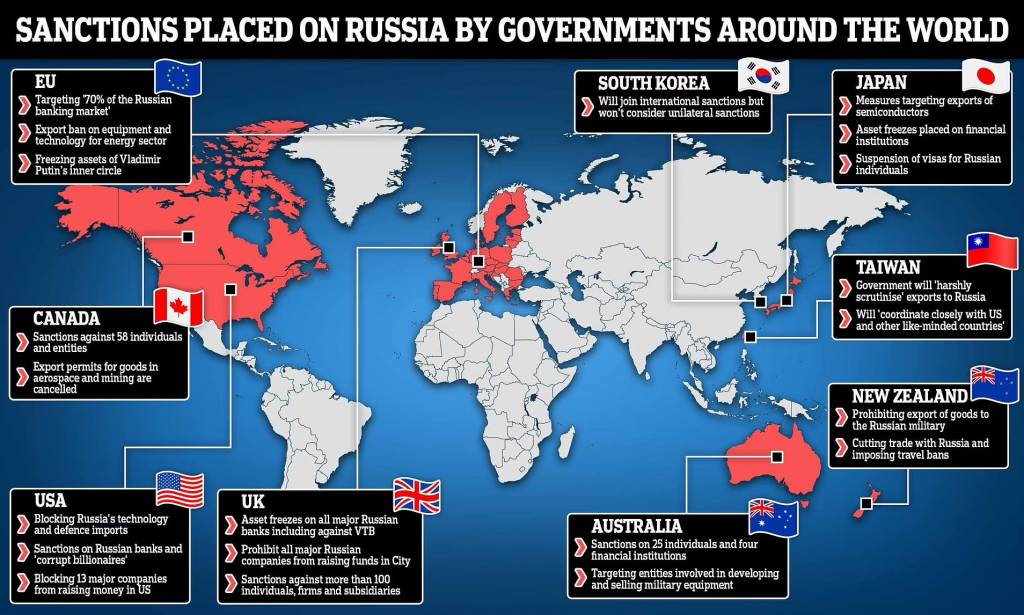 Stranded ships
The COVID-19 pandemic already made a deep mark on the global supply chain, creating severe port congestion and shipping container backlogs. Additionally, the War on Ukraine brought its own impact on the world's ports.
Ukraine's major ports were closed due to the Russian invasion. At the beginning of the war in April 2022, 94 merchant vessels were trapped in Ukrainian ports, and at least eight merchant vessels were attacked in the first month of the conflict. 
While the number of stranded ships steadily reduced over the coming months, the area still remains full of tension and conflict. Russian ships are currently banned from US, UK, and EU ports and this contributes to shipping container price increases and delays.
Grounded planes
Container ships aren't the only vessels struggling. Russian aircraft are completely banned from the United States, and many European countries have followed suit. Therefore, with fewer planes in the sky, air cargo capacity is restricted in the supply chain, further adding to the squeeze from incoming goods.
Higher Gas Prices
Higher gas prices are by far the most noticeable consequence of Russian sanctions for the average American. While gas prices were on the rise before Russia's invasion, the war has effectively halted all of Russia's exports of gas and oil to foreign countries, sending gas and oil prices into orbit.
Additionally, the increased price of gas is especially hard on the trucking industry. Many independent truck drivers pay for gas out of their own pockets. So, truckers have to charge more to run the same routes, leading to an increase in prices for shippers and end consumers.
Furthermore, the increased gas prices have driven an interest in alternative and renewable fuel sources for the trucking industry. But until these solutions can be implemented widescale, increased fuel prices will likely contribute to higher shipping costs.
Iron and Steel
Iron and steel are common raw materials used in construction or production, and Russia is a major exporter on a global scale. Fore example, the United States alone imported around $2.77 billion worth of iron and steel from Russia in 2021. However, after the invasion of Ukraine, the United States imposed sanctions on Russian iron and steel, resulting in shortages.
Many industries are scrambling to find these materials from other sources. This places more demand on the products, which in turn raises prices and contributes to supply chain shortages.
Nickel
Iron and steel aren't the only raw materials that Russia exports. Additionally, Russia is the third biggest producer of nickel in the world and exported roughly $3 billion worth of it in 2021. Nickel is a key component in batteries, as well as stainless steel and other metal alloys. Prices of nickel more than doubled on the London metal exchange. Therefore, without a steady supply of nickel, items like batteries for cars could see a price increase.
Sanctions on Russia – Semiconductors
Semiconductor chips are key components in electronic devices like phones and computers.
Though 75% of the world's chip manufacturing is in East Asia, Ukraine is a primary supplier of neon gas, and Russia is the world's biggest producer of Paladium – both of which are key components in semiconductor chips.
Even though a "chip shortage" isn't globally an issue right now, it's possible that the Russian invasion could impact the global production of semiconductor chips and disrupt the supply chain for these items.
Sanctions on Russia – Food
Ukraine is responsible for much of the world's supply of wheat, barley, and corn, earning it the title "the breadbasket of Europe". However, with Russia's invasion, Ukraine is no longer able to export grain as it once was.
"The farmers who would be in Ukraine planting right now have picked up rifles, so the longer this war goes on the less likely it is that this production will be created in the first place," says John Piatek, head of the GEP's consumer goods and retail practice.
By the same token, businesses that deal with food might face shortages of products in their supply chain. The lack of exports could also serve to raise prices, worsening the impact of inflation.
What small businesses can do to minimize the effects of sanctions on Russia
The sanctions have undoubtedly disrupted the global supply chain. So, how can a small business handle these changes?
One of the best things that a business can do is to stay calm and come up with an actionable response plan. If you're facing shortages of key materials or components, be honest with your customers and explain the reasons behind a delay, or a price increase. While no one appreciates longer wait times or higher prices, they do appreciate not being left in the dark.
Another way to better your supply chain is by outsourcing your logistics needs to a dedicated 3pl. A 3pl can work with you to find actionable solutions and the cheapest options available for your situation.
As a top Northeast transportation company, N&D Transportation Company, Inc. is here to help navigate your business through global supply chain disruptions. We can help you with direct transportation services in RI, MA, and New England, and throughout the nation through our partner carriers.