The transportation industry doesn't have the best reputation for trucking diversity. Until recently, more than two-thirds of truck drivers were white and 90% were male. But the tide is beginning to change.
The American trucking industry is more diverse than ever before, with more women and minority truck drivers joining the ranks every year. Undoubtedly, the face of the transportation industry is changing, becoming more inclusive and accessible for those who want to earn a living on the road.
Below, you'll discover why diversity is important in the trucking industry, along with ways employers practice diversity on the job
Why the transportation industry needs continued trucking diversity
With a growing labor shortage of drivers, the trucking industry needs as many employees as it can get. Obviously, as an older generation of truck drivers retire, newer truck drivers must take their place. Importantly, younger, or more diverse, job candidates want their employers to take inclusion seriously.
"Younger people want a diverse community, a diverse workforce, a diverse company that they can go to," Eric Fuller, CEO of US Express told FleetOwner. "You will not make it for the next 20 years if you don't have an intentional approach around inclusion and diversity."
It should be noted, by taking diversity and inclusion seriously, a trucking company can ensure that all of its employees feel welcome, safe, and included at all times during the job. Research shows that companies with a diverse employee group are more likely to turn a higher profit. In addition, a transportation company with more diverse employees can better serve diverse communities, too.
Is truck driving a good job for minority drivers?
According to current trucking industry statistics, minority truck drivers — such as Hispanic truck drivers, Black truck drivers, or Asian truck drivers — account for 42.3% of drivers in the United States.
There's a huge opportunity in trucking for drivers of any race to earn a steady living. Base salaries for truck drivers often range from $65,000-$95,000 per year. Moreover, driving full-time for a transportation company can also offer benefits like health insurance, paid time off, or a 401k.
"A carrier sets the pay based on mileage, hours, or percentage of the load, " Elen Voie, founder of the Women in Trucking Index, told CNBC. "It is not related to age, ethnicity, or gender."
While the industry still needs work to eliminate discrimination, organizations like the National Minority Trucking Association are striving to change the landscape and help minority truck drivers find carriers where they feel safe, valued, and included.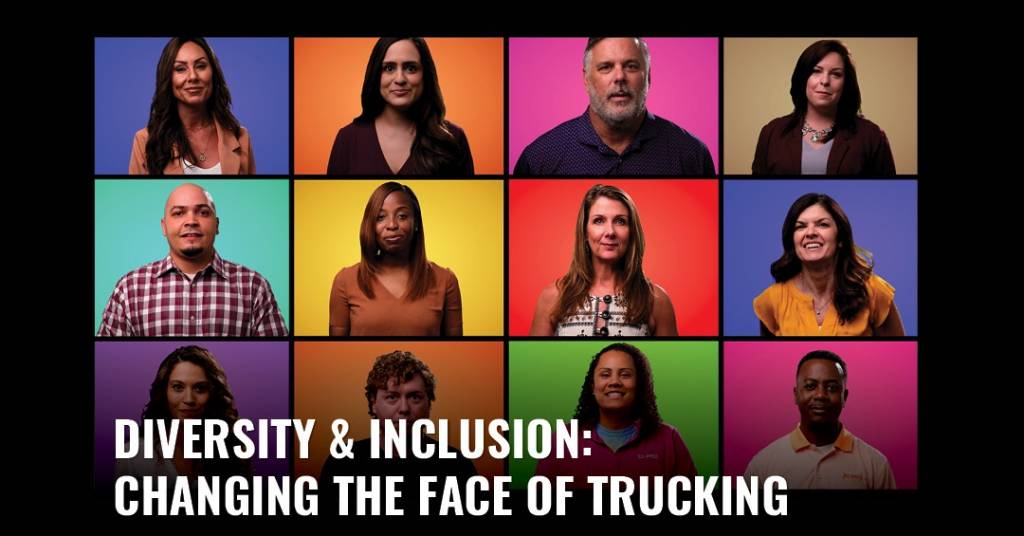 Is truck driving a good career for a woman?
According to Women in Trucking (WIT), women make up nearly 14% of professional drivers. While that might seem like a small number, this is actually an all-time industry high.
In 2019, WIT reported that women made up around 10% of all industry drivers. That's a 40% increase in only three years. Unquestionably, more women are beginning to recognize the potential benefits of a trucking career and closing the gender gap.
Organizations like WIT are also working to help minimize obstacles that women in trucking face, encouraging more female truck drivers to pursue careers in the industry.
How the industry can help
Firstly, trucking companies hold a responsibility to ensure that women or minority truck drivers feel safe and included in their employment. That starts with diverse hiring practices — and taking steps to eliminate potential harassment or discrimination by taking employees' concerns seriously.
"It is important for both employees and employers to know about their rights and responsibilities in the workplace," said Joseph J. Olivares, a public relations specialist with the Equal Employment Opportunity Commission (EEOC). "Workers have the right to work in a place free of discrimination," Olivares told trucking news organization Freight Waves.
By making sure employees feel heard and understood, trucking companies can ensure their drivers feel like a valued part of the team and draw more people into the industry.
How to become a truck driver with no experience
At this time, if you're interested in joining the trucking industry as a driver, most people get their license through a truck driver training course. These programs last anywhere from a few weeks to a few months.
While attending a course, you'll learn the rules of the road, how to safely drive a truck, and how to pass your Class A CDL license exam. Furthermore, some trucking schools might even allow you to use their trucks for your driving exam.
Unfortunately, truck driving school isn't cheap. It costs an average of $3,000-$7,000 to earn a CDL driver's license. Nevertheless, while that can be far more affordable than attending a college or university, it can still present a financial challenge for many.
How can I get financial assistance?
Even just a few years ago, financial assistance for CDL licenses were tough to find. But, there are a growing number of organizations that provide financial aid or scholarships to aspiring drivers, including:
Where to find jobs as a CDL driver
If you're interested in joining the trucking industry, N&D Transportation Company is here for you. N&D is an equal-opportunity employer proud to hire drivers of any race, gender, or religion.
We strive to ensure all our employees feel safe and included. We provide job opportunities for drivers of any experience level, and all of our drivers receive a full benefits package, including paid time off, health insurance, and a 401k. In addition, our salary compensation is one of the highest in the industry
If you're interested in joining our RI transportation team, view our careers page for information on open positions.