When you work with a national or global supply chain, you have a wealth of transportation options to choose from. Two of those possible choices include multimodal transportation and intermodal transportation.
Furthermore, both of these options rely on multiple shipping methods to reach the final destination, whether it's by land, air, or sea. However, there are subtle differences between the two that could influence your decision. Learn more about the differences between multimodal and intermodal transportation below, along with their pros and cons.
What is multimodal transportation in logistics?
Multimodal transportation, or multimodal shipping, is the process of transporting goods under a single contract with different modes of transportation. It should be noted these modes of transportation can include trucks, trains, planes, ships, or even drones.
The third-party logistics provider (3pl) that holds the contract is typically called a multimodal transport operator (MTO.) The MTO doesn't always handle all the involved shipping methods directly. Instead, they may subcontract different aspects of transportation to other carriers while managing the overall contract, especially in cases that involve international shipping and distribution.
A multimodal transport example
Here's an example of how international multimodal shipping might work:
Trucking: The shipping journey begins at a manufacturer's warehouse in Asia, where a local company loads the products onto a truck
Rail transportation: The truck takes the products to a rail terminal, where they're loaded onto a train bound for a coastal port city.
Ocean Freight: When the train reaches the rail hub, the products are transferred into a shipping container. The container is placed on a ship, which sails across the ocean to the US.
Port handling: Upon reaching the US port, workers unload the products from the ship and hold them temporarily at a logistics hub.
Second trucking: From the distribution warehouse, another local trucking company or third-party logistics provider (3pl) loads the products onto another round of trucks and distributes them to their final destination.
This example uses three different modes of transportation to meet different needs: Trucking for short distances over land, trains for longer distances over land, and ships for transporting items across the ocean. Furthermore, multimodal shipping doesn't always have to be international, either: It can also be used for domestic transportation where it makes financial sense.
Multimodal transport advantages and disadvantages
Some of the advantages of multimodal transport may include the following. 
Easier communication: Working with a single carrier can help you avoid seeking out and contracting with carriers in remote parts of the world – the 3pl will take care of it for you.
Potential cost-savings: Coordinating with a single 3pl could help you reduce your overall operating cost. Even if they don't directly provide shipping services for every leg of the journey, they may have existing connections that will provide favorable prices.
More streamlined: Additionally, you may be able to track and monitor your shipments more easily with a single carrier: No need to contact multiple shipping carriers for different aspects of transportation.
Multimodal shipping may also include the following disadvantages.
Less control: Obviously, working with a single carrier, you'll have less control over the individual aspects of your shipping process.
Missed discounts: While multimodal transportation can come with cost savings, you may miss out on certain discounts when you're locked with a single carrier.
What is intermodal transportation?
Intermodal transport also uses multiple shipping methods to get goods from point A to point B. In fact, a journey with intermodal transportation might play out exactly the same as the multimodal transportation example given above. Therefore, the difference between the two methods lies in the contract.
With intermodal transportation, you'll contract with multiple carriers for each individual step of the journey. Additionally, that would mean making separate contracts for trucking, rail transport, and ocean shipping. This allows you to pick and choose different carriers for the individual aspects of your shipping journey instead of locking in with a single carrier.
Intermodal transportation: Advantages and disadvantages
Some of the pros of intermodal transportation may include the following.
More control: With intermodal shipping, you have a greater sense of control over the companies you choose to contract with. Therefore, you can vet them all personally and pick and choose your preferred options.
Flexibility: You'll have the freedom to swap carriers when one doesn't fit your needs.
Potential savings: You can choose carriers who may offer the lowest price, saving money on your overall shipping process.
On the other hand, intermodal transportation may also come with the following cons:
More to monitor: Nevertheless, you'll have to keep track of several contracts with different providers, which could become confusing, depending on how many contracts you need.
More involvement: You may need to monitor your shipments more closely and coordinate around any shipping delays with carriers yourself, rather than letting a 3pl take care of it for you.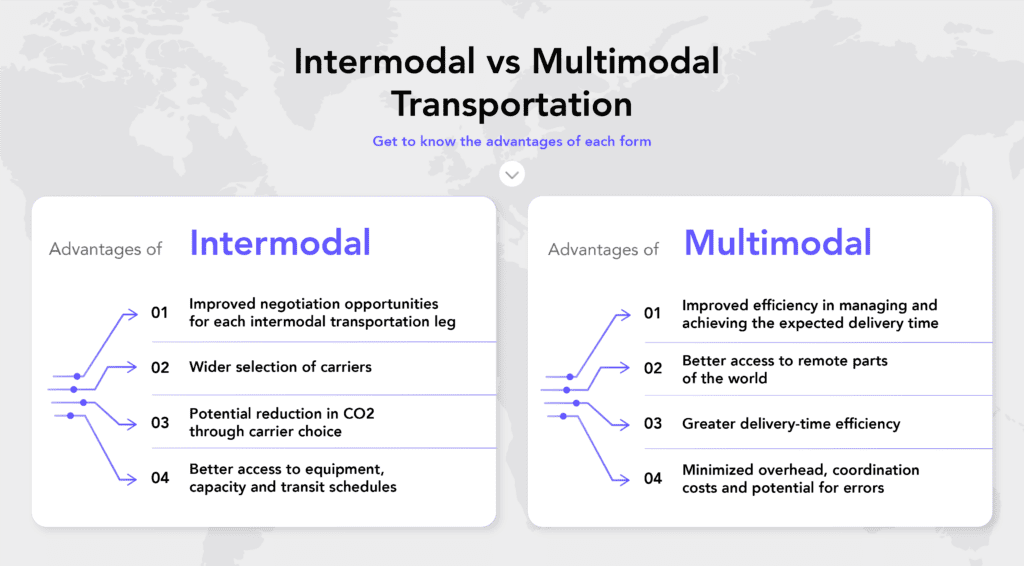 What's the difference between intermodal and multimodal transportation: Conclusion
To sum up: Both multimodal shipping and intermodal shipping utilize multiple shipping methods for efficiency and practicality. Multimodal shipping contracts each step of the process with a single carrier, while intermodal shipping uses multiple contracts to get the same results.
Both can offer their own set of distinct pros and cons. So, the best option to choose can depend on your individual preferences and transportation needs.
Looking for a New England trucking company?
If you are looking for one of the top-rated Rhode Island trucking companies that can help you with local shipping, N&D Transportation is here for you.
We offer truckload and less-than-truckload shipping throughout the New England area. We can also connect you with national and international transportation methods through our partner carriers. We'll gladly work with you to assess your logistic needs and find the most affordable and efficient solution for your business.
Contact us today and learn more about working with us as your New England trucking company.