The vast majority of businesses don't have the time or bandwidth to handle all of their supply chain operations personally. It's often cheaper and easier to outsource these tasks to specialty logistics companies instead. This is where logistics providers like 3pls (third party logistics companies) and 4pls (4th party logistics companies) come into the picture. Learn how 3pl vs 4pl could help your business.
Although both 3pls and 4pls fulfill shipping and supply chain management tasks for your business, they differ widely in the ways they accomplish this. It's important to know the difference between them so that you can make an informed decision about your supply chain. Here's what you need to know about the difference between 3pls and 4pls, along with how to choose the right provider for your business.
What is a 3pl? Third party logistics advantages and disadvantages
As the name suggests, 3pls are third-party companies that take care of a company's logistics operations. A 3pl will directly handle dedicated transportation tasks like shipping, distributing, and transporting goods and materials for your business. In the continental United States, this is most often accomplished via truck. Although 3pls can also use trains, planes, and even ocean barges to get the job done. Many 3pls also own and operate warehouses, giving them the ability to control inventory and fulfillment tasks for your business.
A typical 3pl is responsible for logistics tasks like:
Scheduling inventory shipments, both inbound and outbound
Organizing, managing, and taking stock of inventory goods
Properly maintaining goods
Securing the lowest possible shipping rates
Managing scheduled deliveries, such as monthly or weekly drop-offs
Customs brokerage for international transport
However, a 3pl doesn't manage the entire supply chain. They only act as intermediaries between your manufacturer and retailer or another endpoint. Your business will still be responsible for many of your internal tasks related to your supply chain, such as customer communications.
3lps may also be limited in the services they offer or the region they serve. For example, if you need to ship things overseas and your 3pl only provides domestic logistics services, you may need to employ multiple 3pls to get the job done.
What is 4pl? 4pl logistics advantages and disadvantages
4pls take things a step further than 3pls. A 4pl is responsible for managing your business's entire supply chain. Think of them as logistics consultants or managers. They often coordinate with multiple third-party logistics providers on your behalf. A 4pl will also handle internal aspects such as communicating directly with your manufacturer and coordinating logistics services. For large companies with complex supply chains, this can be a lifesaver.
Some of the tasks a 4pl can accomplish are:
Proper management of inbound, outbound, and reverse logistics
Logistics strategy and consulting services
Project management
Network analysis and designs for more efficient logistics
Analysis of freight management and
Managing and communicating with multiple third party distribution companies
Working with a 4pl can save you valuable time and energy from managing your supply chain by yourself. This extensive service can be particularly valuable for large businesses struggling to keep up with internal management tasks. However, that service comes with a price.
4pls are far more expensive than 3pls. Small-to-medium-sized businesses with tight budgets are usually unable to justify the high cost. This is why 4pls are almost exclusively employed by large companies or leading enterprises. Some businesses might prefer to manage their supply chain in-house for greater control, making the 4pl's hands-off management style unappealing.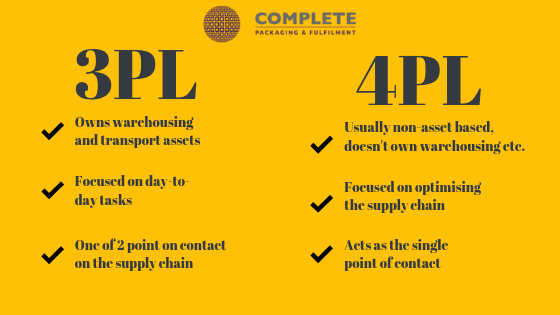 Which is right for my business (3pl vs 4pl)?
This depends purely on your business model and the needs of your supply chain. A 4pl offers the most comprehensive services. However, the high cost of 4pls is something that many businesses can't justify. If you're a small-to-medium-sized business looking to save money, a 3pl will likely be the best solution for you.
But it's not just about cost. It's also about how involved you want to be in your supply chain. If you want to maintain control of your internal management while still outsourcing shipping services, a 3pl is your best bet. However, you will have less control over your inventory itself with a 3pl. Certain logistics tasks, like reverse logistics, might be more complicated to coordinate with a 3pl.
If you want to be completely hands-off with your supply chain, using a 4pl allows the freedom for this. A 4pl can coordinate customer returns without you having to lift a finger. You can dedicate more of your internal resources towards building a better experience for your customers. The downside is losing direct control over your supply chain through outsourcing.
Ultimately, both methods offer distinct pros and cons. No matter which type of provider you choose to go with, the right logistics company should be committed to working with your business, finding fast and cost-effective solutions for your logistics needs.
Looking for a 3pl? Why N&D is the choice you're looking for
If you're on the lookout for a 3pl in the Rhode Island area, look no further. As a leading New England trucking company, N&D Transportation Company Inc can give your business the best of both customer service and affordable shipping. At our 12-acre North Smithfield Facility, we can handle all your warehousing, inventory management, freight transportation, and dispatching needs.
We can offer third party fulfillment services directly in the New England Area, or nationwide via our trusted partner carriers. At N&D, we pride ourselves on our extensive customer service. No matter what you need us to ship, we'll work hard to get your freight where it needs to be quickly, safely, and affordably.
Contact us today to learn more about how our 3pl services can streamline your supply chain.